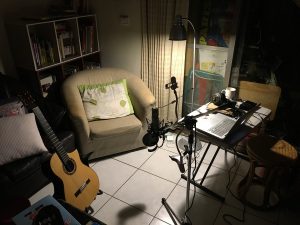 Are you wondering how to set up a recording studio with minimum costs like just $350 at your basement, home office or bedroom? Well, if you are trying to put all things together to materialize your plan of making music in a great homely atmosphere, then the process itself might seem very tiring and confusing. In this article, we will talk about some simple yet effective steps to fulfill the plan.
It may sound unbelievable but right from DAW software to audio interfaces to speakers, microphones, headphones, gears, and all other equipment can be installed within your budget to make a killer home recording studio.
Which microphones to choose for clear instrument and vocal tunes
There are so many brands and companies that offer economic yet brilliant quality microphones at a very reasonable rate. With various brands, models, and products at your disposal, you can select the one that suits your requirements and budget. Shure SM57, Audio Technica 2035, AKG D5 Dynamic mic are some of the cost-effective yet super-efficient microphones that can be used in any studio.
Find out the top audio interface
With so many diverse choices around, the market of audio interfaces has never been this good before. But before buying the best audio interface for yourself or your band, you should consider the following criteria
What kind of input/output is needed

What sort of device or computer connectivity is required?

What level of quality of sound is required?

What are the budget interfaces?
Focusrite Scarlett Solo, Steinberg UR 12, IK Multimedia iRig Pre HD are some of the best performing and cheap audio interfaces that rule the music market.
Get the perfect studio headphones and XLR cable for mic
Getting a pair of headphones is the best idea instead of a studio monitor. This way you can work late at night and stay away from distractions like noisy neighbors etc. If you select the KRK KNS6400 headphone, it will cost you around just $99 and give you brilliant performance at this economy rate.
Now for mic XLR cable, you have to spend around $20 and a 20-foot cable will be enough for your recording studio need.
Pop filter and microphone stand
Are you an individual vocalist or the lead vocal of your band? Then a pop filter is must needed equipment for your home studio. The pop filters are available at a very cheap price though. If you research well on any e-commerce platform, they can be obtained at just $19. It is unbelievably cheap yet a perfect item to record strong vocal cords.
On the other hand, if we look at the microphone stand, going for the tripod stand is the best option because they are durable, steady and they come with boot arms which are very much user-friendly. The stands can be positioned anywhere you want in your studio. The microphone stands can be bought at just $25 or $30, so this is also well within your budget of $350.
Learning the basic hacks or tricks
Well, if you have to turn your bedroom into your home recording studio, then you have to abide by certain tricks or rules. Remember, that your bedroom wasn't planned or designed initially to be used as a recording studio. Therefore, the hacks are important to know how to set up a home studio for under $350. These are basic tricks of turning a complete sound-proof recording studio at home.
Cover the bare walls: we all know that bare walls reflect sound. So if you have any such wall in your room, you have to first think of covering them properly with wooden furniture or otherwise or maintain a safe distance from the wall so that the sound doesn't reflect or go outside the studio.
Learn how to use the microphone: Microphones have their own unique features but it is up to you to know how to use it at your home studio to make the most of it. Therefore, it is recommended that you maintain your vocal or music proximity to your microphone and enhance its base capacity for a clear sound reflection and thus a great recording content. You should also learn to use the back of your microphone for some interesting sound recording.
Utilize your closet: Wooden closets are part of every household. So you already have the infrastructure ready at your hand. All you need to do is to turn it in into a recording studio without spending any extra bucks.