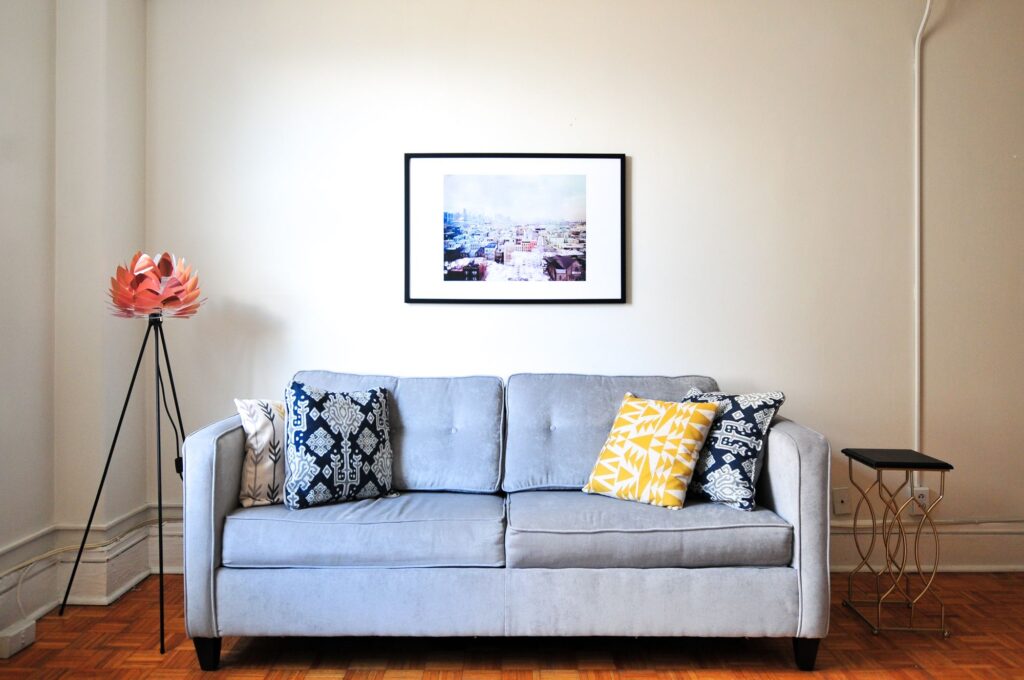 Art can be a powerful tool in any home. It is not just something that brings beauty and style to the home, but it can also bring a sense of joy, connection, and creativity. This article will explore ten reasons why art should be part of every home.
Make your space unique.
Art has the power to dramatically change a space, giving it character and personality. Whether a piece of sculptural artwork or an eye-catching mural, art can help define and enliven a room. Art can be used to set the tone for any given space, from subtle accents that encourage contemplation to bold statements that demand attention. It brings life to soulless spaces and encourages thought, emotion, and collaboration. Depending on the style of art chosen, it can provide viewers with feelings of comfort, challenge, or reflection – creating a unique atmosphere in each environment where it's present.
Enhance the atmosphere
Art can have a profound influence on how the atmosphere of a home is experienced. Art provides an avenue for self-expression, adding an element of uniqueness to the environment. Incorporating art into the home captures moods and emotions, enabling one to explore their interior life in an externally creative way. Adding beautiful and carefully chosen pieces to any home elevates it emotionally and visually. It can provide harmony, stimulation, and comfort – allowing one to share their artistic vision with the people they love. Art allows us to explore our surroundings in ways beyond serving only practical purposes; it brings beauty, sophistication, and poignancy out in all its multi-faceted forms.
Increase emotional connection
Art has the power to be a bridge between the inner and external worlds, helping create positive emotions, a deeper understanding of self, and an emotional connection with family and home. Through creating or displaying art at home, we can find solace in its ability to bring us closer to what we feel within ourselves and impart that to others. From music or photography to painting or sculpture, there is no limitation on how one might adopt art into their daily life. Additionally, incorporating arts into the conversation around difficult topics often makes it easier for people to express their feelings in a transformative manner. Art provides a space for collective vulnerability where love and understanding can seamlessly move beyond words.
Connect with nature
Nature provides us with beauty, peace, and serenity; all things we need in our homes if we want them to be inviting spaces for ourselves and our guests. Adding artwork featuring natural elements such as landscapes, trees, or flowers helps us connect with nature without leaving our homes.
Showcase cultural heritage
Artwork offers us an opportunity to show off our cultural heritage in our own homes. Whether it's traditional artwork from where your ancestors came from or modern pieces created by artists today, showcasing these items tells a story about who you are and where you come from, which adds character and depth to your living space.
Celebrate milestones
Artwork can also be used as a way to celebrate milestones in life, such as graduations or weddings, by commemorating these events through hanging artwork featuring images related to them or special quotes associated with them on walls around the house.
Support local artists
Buying artwork made locally not only supports local artists but also helps put money back into local economies, which benefits everyone living there. Plus, when you purchase original artwork, you get something truly unique that no one else has. This can make for meaningful conversation pieces when entertaining guests in your home.
Redecorate easily
Redecorating a home can often be intimidating, but art is one way to make the process simple and rewarding. Art is a great way to spruce up a living space without purchasing expensive furniture or fixtures. It's easy to find pieces that fit any home décor style, from modern abstracts to classic portraits. Adding artwork can instantly add a feeling of sophistication that can significantly upgrade the look of any room. One advantage of art as a decorating tool is its flexibility; it's much simpler to rotate pieces around or switch them out than having sofa cushions reappointed or wallpapers painstakingly peeled away and swapped. Make redecorating at home easier by incorporating stylish and meaningful pieces of art.
Improve mental health
Studies have shown that art can be a great way to improve mental health. Art engages both our cognitive and emotional centers in the brain, allowing us to express ourselves in new and creative ways. It can help to reduce stress and anxiety levels by providing a basis for reflection and escape from everyday life. Research has also found that engaging with art can heighten feelings of self-awareness, which benefits people struggling with depression or other mental health issues. The creative process of participating in art activities has been linked to increased dopamine levels, which help regulate moods and promote positive thinking. By taking part in activities such as painting, sculpting, music, or filmmaking, we can discover powerful ways to connect with our emotions and strengthen our mental well-being.
Make memories
Finally, using artwork as decoration creates opportunities for making memories. Whether admiring pieces together during family time or gathering around paintings while recounting stories from days gone by, there's nothing quite like enjoying each other's company while admiring great works of art!
Art plays an important role in any living space; it adds personality, depth, beauty, emotionality, culture, and so much more! From supporting local artists financially, connecting with nature virtually, and celebrating milestones within families, art's importance cannot be overstated! Integrating art into any home gives homeowners endless possibilities for creating memorable experiences within their own spaces! Moreover, buying quality pieces that are either hand-crafted locally or have sentimental value ensures these moments last long after they have passed! If this article has inspired you, then take this as a sign that today might be a great time to start exploring what kind of pieces best fit your needs! Good luck finding exactly what speaks out loudest within each individual household!