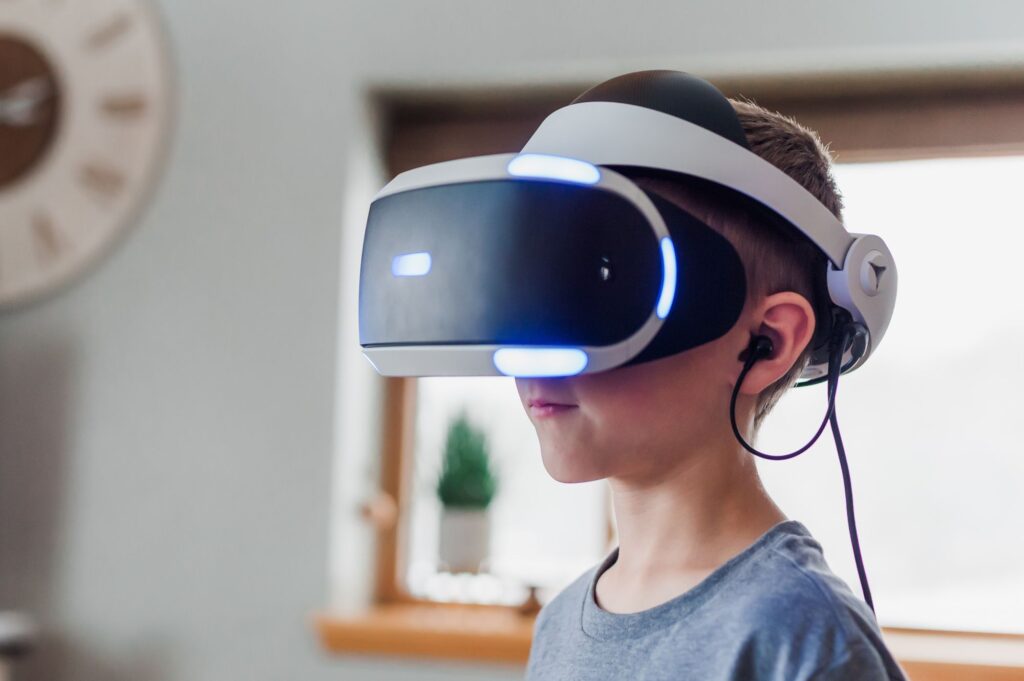 Arts have always been at the forefront of adoption when it comes to new technologies. From the invention of the printing press to the introduction of new mediums like photography and film, artists have always embraced new ways to create and share their work with the world. In recent years, virtual reality (VR) and augmented reality (AR) have emerged as powerful new tools for artists, opening up entirely new possibilities for creation and connection. Here are five amazing examples of how VR and AR are being used in the arts today:
What is the Difference Between Virtual Reality and Augmented Reality?
The concept of virtual and augmented reality was first coined in the late 1960s when so-called "immersive" technology was still mostly theoretical. It wasn't until the 1980s that these types of technologies started to emerge as tangible products. Early developers used rudimentary hardware and input devices to track head movements, project visuals, and react to users' actions. Many early experiments were considered unsuccessful due to limited computing power, high costs, and impractical user interfaces. Today, VR/AR is more accessible than ever with accessible gaming platforms such as the Oculus Rift and sophisticated mobile apps like Pokémon Go. We are only beginning to explore what these two powerful technologies can do for our lives – from revolutionizing education to advancing medical research; the possibilities seem truly limitless!
Virtual Reality (VR) and Augmented Reality (AR) have been talked about in the same sentence lately, but they are very different technologies. VR essentially replaces the user's real world with a simulated one by putting them into an artificially created environment and blocking out their physical surroundings. On the other hand, AR enhances the user's real-world environment by adding digital information and interactive 3D elements to it. For example, digital graphics can be overlaid with what you usually see through the camera lens when using an AR app on a smartphone or tablet. Both are great for visual experiences that are immersive, engaging, interactive, and fun for users; however, it is important to know the differences between these two types of technologies in order to truly understand how they can best be utilized in various contexts.
VR and AR can transport you to another world.
Experience art like never before with virtual reality (VR) and augmented reality (AR)! Whether it's spatial 3-D modeling, simulated contact with the artwork, or museum tours from any location, these technologies create a satisfyingly immersive experience. Turn the boundaries of space and time into the realm of imagination. Let your thoughts take you to places beyond what you see in front of you, to daydreams and worlds beyond! With VR and AR, anyone can be transported to a world of boundless creative expression. Transform from spectator to creator as you explore thematic collections, create interactive applications that explore environments and soundscapes, reach unprecedented immersion with 3D cinematic works, and discover the endless possibilities these incredible technologies offer. Step into a new way of looking at art; enter mind-blowing gallery spaces without leaving your home.
You can experience art in a new way.
When it comes to experiencing art, virtual reality (VR) and augmented reality (AR) open up a whole new world of possibilities. For example, the ability to literally be immersed in the artwork – from the artist's perspective – offers insight into the creative process, enabling viewers to explore intricate details in depth. Additionally, viewers can physically interact with the artwork to understand spatial relationships between pieces and elements within them. Now, more than ever, technology enriches our appreciation for art in ways we never thought possible.
It can be used for educational purposes.
Using virtual reality (VR) and augmented reality (AR) in the arts has opened up a world of educational possibilities. VR and AR technology allows students to immerse themselves into settings that may otherwise be impossible to experience. Along with advancing 3D effects, this tech allows teachers to provide unique learning experiences to their students. For example, using AR, instructors can create a virtual museum tour that allows their class to explore and learn from various works of art worldwide without ever having to leave the classroom. In addition, this technology can give insights into historical sites as if they were still standing today through simulations and interfaces. By incorporating VR/AR into classrooms, teachers have yet another way to help foster learning and development within their students.
It can help with the conservation of art.
By utilizing virtual and augmented reality, the artistic community is opening up new ways to preserve artwork and bring it to life. Since VR and AR can be used to create detailed digital recreations of art pieces, they can help capture the physical details of a painting that otherwise would be difficult or impossible to reproduce for future generations. Similarly, these technologies can also be used to display virtual pieces in an online gallery, allowing an artist's work to travel further than it could ever be achieved before. In addition, interactive exhibitions using VR and AR can help provide visitors with a complete understanding of both the history and craftsmanship behind the artwork. As the world continues to reap more and more benefits from digital technology, it's reassuring to know that it's also doing its part in the conservation of art.
It can be used for entertainment purposes.
Virtual Reality and Augmented Reality have been gaining popularity for entertainment purposes in recent years, offering new ways of experiencing art. From watching immersive 3D movies to playing interactive video games, these technologies enable people to engage with imaginative digital worlds in previously impossible ways. VR and AR can also be used to create entire virtual worlds or showcase artwork in truly unique ways, using cutting-edge technologies like volumetric capture, photogrammetry, and blending mixed-media art forms together. As a result, AR and VR are becoming increasingly popular in the entertainment industry and providing remarkable new opportunities for content creators around the globe.
With so many potential applications for VR and AR in the arts, it is exciting to think about how these technologies can enhance our experience of art. Whether you are looking for a new way to enjoy your favorite paintings or want to learn more about art history, VR and AR offer a unique and immersive experience that is sure to please everyone. What do you think about VR and AR in the arts? Have you had any experiences with these technologies that you would like to share?