CHANTAL MAILLARD
THE POLE SUBLIME OF THE REAL
FERNANDO UREÑA RIB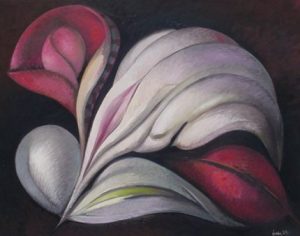 Out of finding you. I was not looking for you and yet I just found you. Or maybe yes, I was looking for you … obscurely, as you seek in the jungle a healing root or you chase there the smell of a persistent vine or the song of a sleeping bird; or the touch of a thorn that suddenly changes your existence because you start to bleed somewhere in the memory and start forgetting to build everything as a face of new clay, made to your inner image and likeness.

I do not know if you will respond. No matter. The scratch does not hurt more than there, in those tender words, tense, bright and sharp with which you say and hide what you know and what I know too, because now I am entangled in that persistent climber that grows and envelopes me with its smell and its lianas, and the song of the sleeping bird awakens slowly my senses lethargic and dazed by so much sudden light, before so much discovery of the being that I am not and that I crave. And I remember my silences, that word that I kept silent and that still shakes my lips.

Yes. Some time ago I was looking for you, now I remember. You were then a girl with short hair and light eyes lost in the city. You would come from the Baños del Carmen, or from El Palo. You would go to Torremolinos. I do not know well. You got on a bus downtown. And I could not help but follow you and sit next to you. You read a manuscript poem on a blue page and you suddenly looked up when you sensed mine. I smiled at you, but we did not speak to each other and yet little by little you threw yourself on my side and closed your eyes with a deep sigh while the blazing sun split the day into two halves without shadows. I remember the warm muteness of that silence. Only that. Today my pulse trembles because I have in my hands that blue poem that you left lost in the bus,

FERNANDO UREÑA RIB  

POEMS OF CHANTAL MAILLARD

HEME HERE ROOT … 

Here I am root,
sap of ascending impulses,
mother still,
possible always,
anticipated gestation
of an intrusive future,
intrusive of a present
that rejects
the value of being born
again.
Here I am, nailing
my
sap eyes imprisoned
in the empty trunks of the trees
dead,
here I am believing,
wanting to believe
in the imposture of the ruins,
in the candor of disaster,
the value of the opaque,
the warmth of the smoke in the embers.
Here I am,
here
I am, I dare
to believe in the ruins.

I dare to believe in the ruins!

From "Spells" 2001

---


INTERMEDIATE 

Between one image of you
and another image of you,
the world is stopped.
In suspense. And my life
is that bird stuck to the
high voltage cable ,
after the discharge.

From "Fuzzy logic" 2002

---

THE OTHER SHORE 

One day, when the air weighs like thirsty earth on the naked bodies, it
may be the voice of that pilgrim who fell silent or the water that,
drop by drop, slips down his chest. He was never on the other side because he knows
that there the gods sleep in the dust. And he knows that when a man accidentally
falls asleep on the other side – that place that always held his gaze –
they wake up and contemplate on him. If that man, then, wakes up,
he becomes a mirror and bursts with the sun.

From "The Other Shore" 1990


---


I HAVE LIVED IN A LONG TIME … 

I've been lying
on the shore for a long time . My breasts
are hills covered with dry leaf.
I raise my head and look
at myself : on my thighs the hair about to be hair,
I sit up: the grass about to be grass,
I take a step and awake to the water
about to be water,
a black bird is scared about to be a bird about
to be black …
A glow blinds me:
the forest contemplates me, about to be a forest,
about to be yours.

From "Hainuwele" 1990

---

YOU WILL NOT PUT NAME TO THE FIRE 

You will not measure the flame
with words dictated by the tribe, you will
not name the fire, you will
not measure its reach.
All the flames are the same fire.
My body is a torch that illuminates the terrors
that reason constitutes in its darkness.
You have to look at the body, deep inside,
touch the fiery center, open it and spread
the joy of lava.
It does not matter which hips,
in which chest it slides,
it does not matter the stature, the sex or the matter
because we all walk on the same pyre.
You will not measure the flame with words that cover up
the old feelings of men.

From "Spells" 2001

---


BUT NEVERTHELESS…

However,
however,
however … I do not
trust myself. Nothing is
permanent. Less
is the word. This
either,
this either,
this either. I do not trust,
do not trust who
says, who
speaks, what is
said, what you say,
what I say,
do not trust me,
I do not trust you.
Lucidity is a spark, a
state of consciousness
in the multiple rooms
of consciousness or that make
consciousness, the rooms
that are extended, prolonged, are
continued, and that
consciousness is called
continuity.
I do not trust, do not
trust the rooms,
they narrow,
they shorten,
they invade,
disappear,
the lucidity is an instant
between rooms,
windows in the monad that
if it remains under
the light of the focus becomes stay,
also it, and suffers
the same convulsions.
However,
however,
however … what
I sense now
will be erased tomorrow,
then,
now,
just think,
conscience: stay. We catch
the sensation that invades the entrails,
very down,
very
deep , very homogeneous, we catch it
and we do that: "sensation",
we name it, we
describe it … we lose it. It's
not her anymore, it's not that anymore, it's not anymore.
It is still there but
it is not what I say,
it is hardly,
it is not what you hear,
is not that, do not
you Trust ye,
do not trust me,
I do not trust. 

Again the afternoon falls,
the light diminishes.
The colors of autumn come from the west,
said the Chinese poet.
The world is in me.
I will not leave.
I welcome all the colors,
summer within my autumn,
because I know there is
no end, that there will be no end.
Everything begins and ends in me.
I am the infinite project of myself
above me
I fly over.

From "Fuzzy logic" 2002

---

AXIS MUNDI 

descend
descended to the body and see
the worm of my spirit
lodged in my belly.
I climb, spiral up
to the engine of the world
fleeing
from the dizziness
of the evil of being alone
so alone in the viscera
I rise to the beat
I stay
in your arrhythmia and discover
my worm face
adhered to the valves
and ascend
I continue ascending in search
of a reason that gave
meaning to my existence
I slip in the trachea
blocking the words I
ascend
slip. There is a
viscous water behind my eyes I
slip and I get
images of a world that is
barely hinted at,
and when I reach
the dome I find
that its smooth,
transparent, empty walls
have the texture
fleshy from my belly.
I have descended to the spirit
I have gone up to instinct.
The same worm tenses
the shaft that keeps
my waist upright.
The name that I put
now will be yours
but his name is the one
of those that I have loved
of those that I will love
is all and none
the axis that keeps
my waist upright
prevents me from you
it creates you to me
and assumes the challenge
of being many
to be so many
that it gives the impression
that my spirit will not fit
inside this body
that this body will not fit
inside my spirit,
that's why I die a little
every time I name you
and without even mentioning you I can hardly
define myself.
My belly is the one who pronounces
the secret syllables
that are inscribed above
in the dome.
My existence is a sign
of a fire
that burns eternally
in itself.

From "Fuzzy logic" 2002


---


I WANTED EVER A POET LOVED ME … 

I ever wished that a poet would love me ·

Now his poems hurt in my body,
something of me that in him is recognized until breaking the image
of everything that was.
Now I want him to love me so much that he stopped loving me
and his words were snow
that the June sun melted between my breasts,
where his breath insists on silencing
this ancient sadness that always accompanies me.

From "Seeds for a body" 1988

 

---

I WALKED THROUGH THE BACK OF YOUR HAND, TRUSTED … I 

walked on the back of your hand, confident,
like someone walking in the hills
sure that the wind exists,
that the earth is firm,
the eternal repetition of things.
But suddenly the universe trembled:
you put your hand to your lips
and yawning you opened the night
like a warm grotto.

You woke up ten thousand years
and the fire burned impatiently in your mouth.

From "Hainuwele" 1990

CHANTAL MAILLARD

Biography 

Daughter of Belgian parents, was born in Brussels in 1951, nationalized Spanish from the age of 17 years. She is PhD in Pure Philosophy and professor of Aesthetics and Theory of Arts in the Philosophy Department of the University of Malaga, where she teaches since 1990. He lived for a year in Benares, India, at whose university he specialized in Indian Philosophy and Religion.

He has collaborated with critics of philosophy, aesthetics and oriental thought in the Cultural Supplement of the newspapers Abc and El País. As a poet he has published, among others, «Seeds for a body» 1987, Leonor Prize for poetry, «Hainuwele» 1990, Ricardo Molina Prize, «The Other Shore» 1990, «Poems to my death» 1994, Santa Cruz de La Prize Palma, «Conjuros» 2001, «Fuzzy Logic» 2002 and «Killing Plato» 2004, National Literature Prize.


He has cultivated poetic prose in «Philosophy in critical days», «Diaries 1996-1998»
and «Benares». His essays include the titles "Creation by metaphor" 1992, "The perfect crime", "Approach to Indian aesthetics" 1993, "Confucianism, Taoism and Buddhism" 1995 and "The aesthetic reason" 1999.